Sanyo Leather Exhibition in Toyooka 2022 Summer Announcement
Continuing from February, we will hold the "Sanyo Leather Exhibition in Toyooka 2022 Summer".
This time, in addition to the "white tanned leather" and "super soft leather" that were well received at the Tokyo Leather Fair, we will also exhibit "silk leather" that is as thin and smooth as silk.
In addition, we continue to make leather with SDGs (Sustainable Development Goals) in mind, focusing on low-grade leather that would otherwise be difficult to market, and revived it with our unique technology. Leather will also be on display.
We hope that you will also pay attention to our efforts to "value life" and "more ecology".
We have leather that can be used for various purposes, from "bags", which is a typical industry of Toyooka, to small leather goods such as "wallets", and you can touch the leather directly.
Leather goods writers and individuals who make leather works are also welcome to enter.
We look forward to your visit.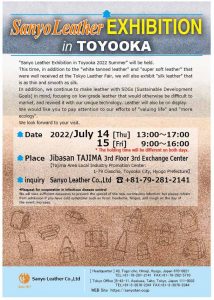 Click to view in PDF
Event information
Date:
July 14, 2022 (Thursday) 13: 00-17: 00 ・ 14th (Friday) 9: 00-16: 00 [2 days]
* Please note that the holding time varies depending on the day of the week.
Place:
Jibasan TAJIMA 3rd Floor 3rd Exchange Center
[(One fortune) Tajima Area Local Industry Promotion Center: 1-79, Oiso-cho, Toyooka-shi, Hyogo, Japan]
http://www.tajima.jibasan.jp/
Request for cooperation in infectious disease control
We will take sufficient measures to prevent the spread of the new coronavirus infection, but please refrain from admission if you have cold symptoms such as fever, headache, fatigue, and cough on the day of the event. increase.
CONTACT
If you are interested in our leather,
or you have any questions about leather,
click here.
Contact us by telephone
Office hour: 8:00-17:00
Off-days: Saturday, Sunday and
Japan's National Holidays