The Announcement of Getting the JISQ9100 Certification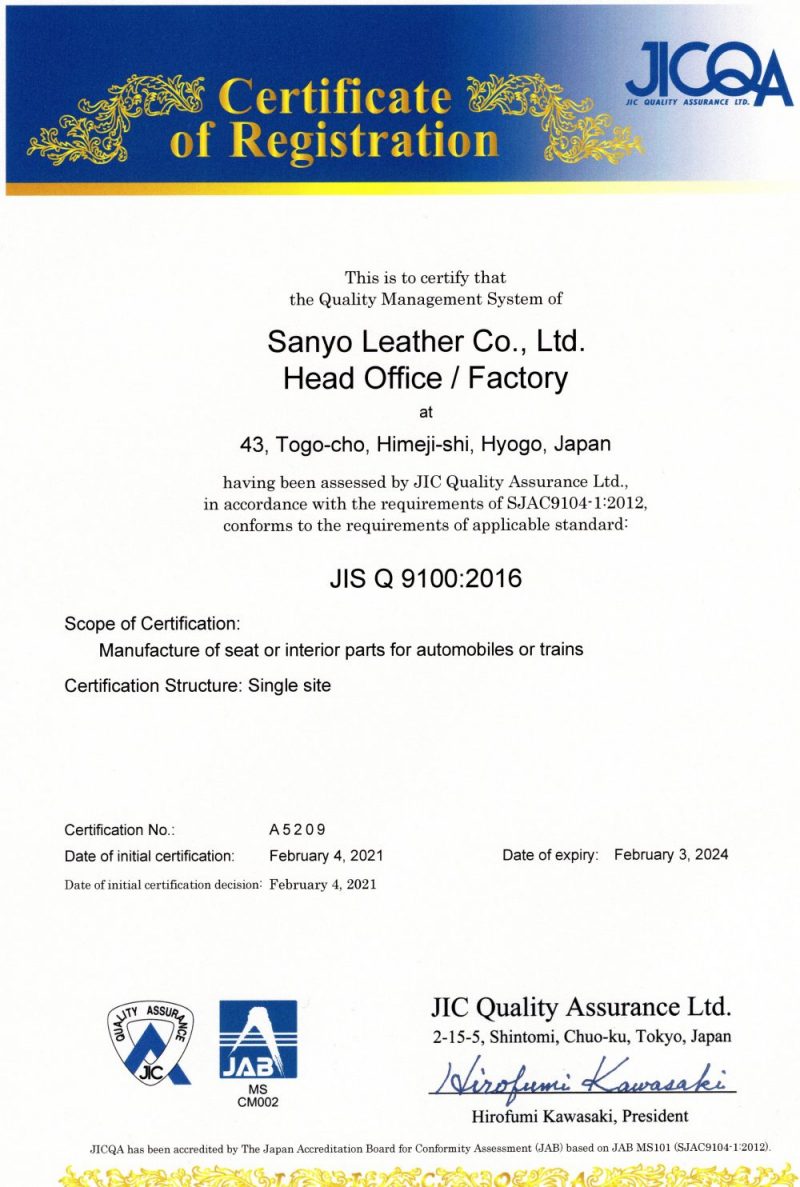 The Announcement of Getting the JISQ9100 Certification
We, Sanyo Leather Co., Ltd. has got the JISQ9100 Certification.
We will let our quality management know-how cover all our products and do our best to provide high quality leather products to our customers.
We hope we can get your sustained support and trust as always.
Sanyo Leather Co., Ltd.
Quality Management Policy
To provide the products that match customers' requirements for quality, to persistently maintain and improve the trustworthiness and effectiveness of our Quality Management System, we set following terms and keep them being operated.
1. The quintessence of the quality management
We do not impute the quality problem to the usage of natural material. While guaranteeing a steady quality met the industrial grade, consider that blend in the art characteristics as an important point of the quality management and the R&D.
2. Quantification
By quantifying the additional functionality of the leather, we can show the figures to our customers directly and use them as evidence for quality guarantee.
3. Preventive quality management achieved by daily monitoring
By conducting the physical property tests and monitoring the results day by day, we can notice those potential quality problems from the change trend of the data and take preventive steps.
4. Quality management in the manufacture process
We award our workers their job titles according to their quality judgement capability. The quality judgement of each procedure will be done by who has a bigger title.
5. Abnormal condition handling policy
When the problem happened, we will send our staff to go-and-see. And use our full traceability and records of the same or similar problems happened in the past to give the reasonable judgement and solution.
CONTACT
If you are interested in our leather,
or you have any questions about leather,
click here.
Contact us by telephone
Office hour: 8:00-17:00
Off-days: Saturday, Sunday and
Japan's National Holidays